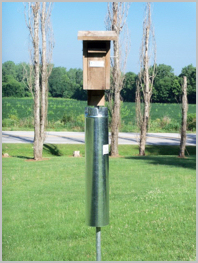 Great baffle design from Lisathebeecharmer at Bluebirdnut Cafe Forums.
Developed by Ron Kingston.
Click photo or Right Click, then Save Target As...
Ron recommends using duct tape on the pipe but a simple metal hose clamp works much better to prevent the assembly from sliding down.
See Link Below
Please note that zbestvalue.com does not support the killing of snakes.